Electric Vehicle Charging Point Installer in Cwmbran, Wales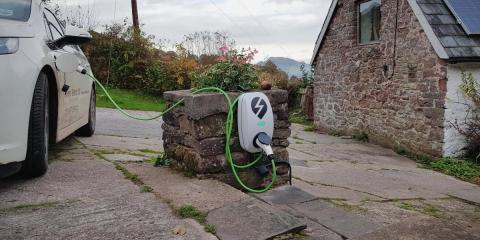 As the majority of people have their cars parked overnight, most Electric Vehicle owners prefer to charge their vehicles using a home charger to ensure that their EV is ready for use each morning. Home EV charging also has the advantage of being, in the majority of cases, the cheapest time of the day to charge your vehicle.
The Government provides financial support for EV buyers to install a charge point at their home through the Electric Vehicle Homecharge Scheme (EVHS), which covers up to 75% of the total costs of installation – please read on to find out more...
What home EV charging points are available?
Around 20 manufacturers provide charging units suitable for domestic use – examples of popular models are shown below. Typically the units are fitted on a wall, and come either with a tethered Type 1 or Type 2 cable, although more and more manufacturers are using Type 2 plugs now with Type 1 being phased out. Un-tethered units are also available which means different length charging cables can be used.
Most suppliers provide two power rating: 3 kW or 7 kW. But most people opt for the 'faster' 7kW chargers as this reduces the charging time significantly. The installation cost difference is fairly small as the amount of work is usually similar. For example, a Hyundai Kona (with a 60kWh battery) on a 3 kW home charge unit will take approximately 20 hours to fully charge from flat but only 8 hours using a 7kW EV charging unit.
How much do home charging points cost?
The Government funded Electric Vehicle Homecharge Scheme (EVHS) provides grants for home charge points. The grant is provides funding up to 75% towards the cost of installing electric vehicle charge points at domestic properties, and is capped at £500 (incl. VAT) per eligible vehicle. From July this year (2019) all charge points need to be 'smart' enabled which means they must be remotely accessed plus be able to receive, interpret and react to a signal. The grant brings the cost of a standard (slow) 3kW unit plus installation to around £400 whilst a (fast) 7 kW unit would be in the region of £600.
To be eligible to apply for the homecharge scheme, EV owners must provide evidence of keeper-ship, lease, be named as the primary user of a new or second hand electric vehicle on or after 1 October 2016 as long as they have not claimed against the previous charge point scheme and have off-street parking suitable for the charge point installation.
The charge point must also be installed by an OLEV authorised installer. Choosing an electrician that is not on the list will most likely mean incurring the full cost of the unit and installation. Finally, the date of installation must not be more than four months ahead of the date of delivery or date the customer becomes the registered keeper/nominated user/lessee of the electric vehicle.
For more details on the Homecharge and related schemes, visit the OLEV website.
Approved installer listing
PG Electrics is proud to be an independent OLEV authorised EV charging point installer in Cwmbran, South Wales and with extensive experience of installing many different types of residential charging points. From first consultation to finished hand over we will guide you through the process and provide a friendly, helpful and professional service.