Fuse Box Installers in Cwmbran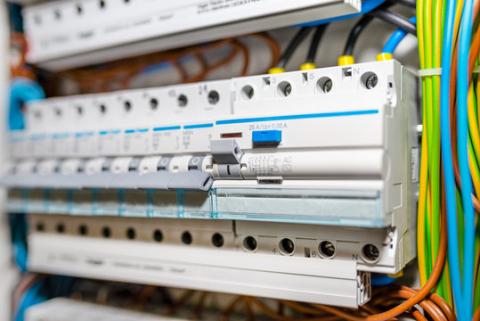 Most people when asked, can tell you exactly where the fuse box is in their home. The fuse box controls all of the electrical circuits in your home and is where you can switch off your electric supply in an emergency. Aside from knowing the location most homeowners quite rightly leave the fuse box well alone and they only time they do check it is when there is a problem!
There are various reasons you may need to contact an electrician for a new fuse box installation. If you have flickering lights or unresponsive sockets this could be a sign that your fuse box is deteriorating. Other reasons which are not as obvious include not including an RCD, has asbestos flash guards or if an EICR check flags a dangerous fault with your fuse board.
Visually there are some small signs that an indicate you need a fuse box replacement including wooden backing or cast-iron switches, this is a sure sign that you need to get in touch with an electrician who is a fuse box installer. These signs also indicate that its very likely your fuse box doesn't have a Residual Current Device or RCD which exists to switch off the electricity automatically should a fuse blow which can prevent an electric shock or even a life-threatening accident.
Accidents can happen, but with a modern fuse box they're less likely to kill you. The kind of accidents that can occur as a result of not replacing an old fuse box can be life threatening. An example of this is if a wire were to be cut whilst in use, any contact with the wire could result in a nasty electric shock resulting in a hospital visit or in the worst-case scenario death.
If you are considering building works or a new installation your current fuse box may not be able to support the addition of a new circuit, a new fuse board can provide better capability and safety to the people in your home and the people carrying out work for you. You'll also know that any workers you hire to come in and carry out the work you require will be able to use the electrics safely.
Modern fuse boxes decrease the risk of electrical fires as they can detect faulty wiring and automatically disconnect the power, reducing heat build-up which would usually lead to a fire. If a circuit overloads this can also cause electric shocks however with built in RCDS the circuit will be automatically shut off. Built in circuit breakers trip within a nanosecond so if anybody were to come in contact with a live wire the breaker will save your life before any damage is done.
PG Electrics are trusted fuse box installers in Cwmbran, if you have concerns about your fuse box don't hesitate to get in touch with us.
 PG electrics are:
ELECSA Registered

Part "P" Compliant

11 Years Experience

Fully Insured

Passionate about good service